Burqa Should Be Banned Essay Topics
WITH THE FAR-RIGHT on the rise across Europe, the German chancellor has become the latest lawmaker to call for a partial ban on the burqa and niqab. Angela Merkel's plan for a partial ban of the full-face veil is a clearly political move, but burqa bans are in effect and under consideration across Europe. 
The Dutch parliament approves partial burqa ban in public places. In France, several court cases are underway regarding bans on burqinis. Ukip leader Paul Nuttall says UK should ban the burqa, and we haven't seen the last of this debate here in Ireland either. We ask two commentators to give their views.
YES. THE FIRST reason these items should be banned is because it is anathema to the cultural norms of western societies to cover one's face when in public. No workplace would tolerate somebody in a Halloween mask or a balaclava, so why should a religious face covering be granted special status?
There is also the issue of equality and reciprocity which are essential for establishing trust and ensuring social cohesion between individuals. Social cohesion is undermined when some individuals either chose or are forced by male relatives to put a barrier between themselves and other individuals in society.
There is no equality in the belief that only men can show their faces in public. How can we all claim to be individuals who are equal in the eyes of the law if the law can't actually see some of us?
The burqa has no place in a liberal democracy
Another reason the niqab/ burqa should be banned is because it seeks to subvert the values of liberal democracy and no liberal state should have to tolerate a cultural practice that symbolises opposition to the founding principles of liberal democracy. What I mean by this is that in a liberal democracy the primary unit of society is not the collective, but the individual and that the individual has certain rights that the collective cannot suppress.
The burqa and the full face veil are mandated by a version of Islam that is extremely socially conservative and which subordinates individual rights, and female individual rights even more so, to the collective will of Islamic religious authorities.
A true and robust form of liberalism doesn't have to tolerate the intolerant and the burqa is the sartorial embodiment of an intolerance of feminine sexuality that obscures not only the face, but also erases the contours of the body, as if exposing the female form in public is something women should be ashamed of.
Its purpose is to suppress and subordinate female bodily autonomy to that of male clerical authority and yet there are some western feminists that actually defend the right to wear a niqab or burqa. I have a strong suspicion that if it was a mandatory clothing requirement of the Catholic church, they'd have very different feelings about it.
Even if a woman claims that she chooses to wear the burqa there is no taking away from the fact that the burqa is illiberal and misogynistic, in that it is inspired by a version of Islam that seeks to erase the very concept of female individuality and equality between the sexes.
AR Devine is an award-winning published author and blogger. He blogs at http://ardevine.blogspot.ie/.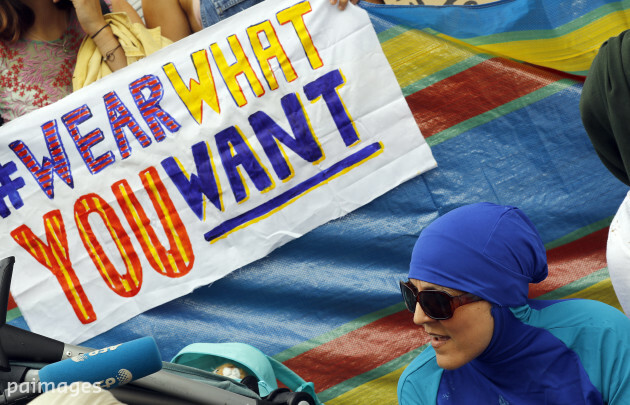 An activist protests outside the French embassy during, the wear what you want beach party in London, Aug 25 2016. Source: Frank Augstein
NO. SOME SAY that the veil in all its forms is dehumanising and sexist. The argument goes that why should women, any women, feel like showing respect to their god involves hiding themselves, as if their bodies are dangerously provocative?
But the women's rights defence is a ridiculous excuse. A burqa ban is a law that treats women like children who cannot be trusted to make basic decisions about their bodies and clothing. It's a sexist law; a law that singles out religious minorities and women of colour as especially unworthy of freedom to choose.
I wouldn't want to be part of a religion myself where we said to women and girls: "You have to wear a veil." But I also would not want to be in the kind of society where people were told how to dress when they went out their front door.
Racist laws get racist votes
Banning the burqa is racist too and instituting racist, sexist laws is a good way to win back the votes of racist, sexist people (I'm looking at you Angela). But it is a terrible way of protecting women.
Anti-burqa campaigners all over Europe suggest that this is an issue of personal safety and basic trust. Does this sound a little unfriendly to you?  It's time we stopped people from equating brown skin or the full-body burqa with the supposed intention to blow up a bus.
Angela Merkel's proposed ban is not a public safety issue or even a misguided attempt to liberate oppressed women. It's a law designed to appeal to anti-immigration sentiment. And don't forget that.
I want to imagine a joyful world where woman can wear bikinis, burkinis or whatever the hell they want without someone trying to protect them from their own decisions. Because whatever you feel about the burqa, it is not the role of government to prescribe what women should wear. A truly liberal society doesn't force women to veil but equally it doesn't force women to remove their veils.
If you think the burqa is oppressive and offensive, you are perfectly entitled never to wear one. You are not, however, entitled to make that decision for anybody else. We need to let others to get on with their lives, burqa or no burqa, even if we don't always agree with their sartorial choices.
Lorraine Courtney is a journalist.
What do you think? Should we consider banning the burqa here in Ireland? We'd love to hear your thoughts below.
'The full veil must be banned… wherever legally possible': Merkel wants a burqa ban in Germany>
France's burkini bans being fought as an "attack on fundamental rights">
Public deliberation is healthy for democracy. In particular, debating is a highly treasured feature of British democracy, but so are individual freedoms and so is pragmatism. From this latter perspective, I am not sure that the numbers of women wearing niqabs or burqas in this country is so sizeable to actually deserve so much public attention, as well as expenditure of much public resources.
Unlike the French, Britain has taken a fluid approach to difference and the multicultural character of its society, and in the current circumstances, it is unclear – perhaps impossible – to establish where the limit for "difference" lies.
Ultimately the difficult question for everybody nowadays is how to balance the rights of the citizens as a group and the rights of the individual.
Although France and Britain share their beliefs in human rights and the principle of religious freedom and their respect for the rule of law, their political cultures and legal systems are quite diverse.
Britain's pragmatism
The French attribute a strong symbolic role to state institutions. Institutions are also highly respected in Britain but the political culture and legal system of this country lead to a more practical approach to these matters (there is, for example, not even a single document called a "Constitution").
​The French discussed their anti-burqa law over nearly two years, hypothesising possible scenarios where the full veil could challenge the sacrosanct principle of laicité (secularism). Instead, British society seems to have not taken the significance of the veil that seriously until it appeared to cause a dilemma in a specific very "concrete" case where the state is represented, a law court. And even in this hotly contested context, the solution adopted is still far from the French one.
Judge Murphy's decision on how to deal with the niqab case in his London court – he ruled that a Muslim woman can stand trial wearing a full-face veil but must remove it to give evidence – has proven that, in Britain, pragmatism prevails in relation to the contested issue of whether full veils should be banned in public spaces. Some have accused the judge of having compromised too much in this. Instead his ruling is firm and cleverly spelt-out.
While avoiding the route of a broad ban, his request for the woman to unveil only while giving evidence does set a precedent, even if technically it has been reiterated that this solution was ad hoc and that similar situations in the future will be discussed on a case-by-case basis.
In taking a nuanced approach that allows the woman to sit with the veil during the trial but to identify herself to public officers when she enters and to unveil while giving evidence, the judge has in fact highlighted the two roles and two sets of priorities in rights for the defendant, as well as the institutional position of a judge and of a law court.
As an individual simply sitting in court, the woman's individual right to freedom of religion has been prioritised, but when she takes on the "official" role of defendant then the interests of the state (which "requires" her to go to court) and its rules for identification, transparency and communication during a trial take over.
The right to express one's faith
Without being a fan of the integral veil "fashion" (as I like to see it), I still understand the position and logic of those that decide to wear it and the significance that they attribute to their right to express their faith. I also appreciate that maintaining peace, freedom and social order is a key task for the state.
For these reasons an overarching ban would be more dangerous than beneficial for public interest and for the cohesion of society. It would needlessly stir up feelings in all corners of society, may exacerbate real or perceived divides among communities and may cause anxiety among Muslims. It may also give encouragement to individuals and groups already engaged in or leaning towards offences towards racial or religious groups.
Tunnel mentality and exclusivism are two big threats for contemporary society. They can lead to fundamentalism, extremism, and totalitarianism. Flexibility and pragmatism are to be welcomed on all sides to protect democracy, individual freedoms and the common good. So let's welcome the debate but let's also hope that, once the debating is done, there is found to be no need for a law.
Sara Silvestri
© ResetDoc 2013
Übersetzt aus dem Englischen von Daniel Kiecol
Qantara.de editor: Lewis Gropp/Qantara.de